Two new site-specific works were recently launched at

Wysing Arts Centre

:

The Peterborough Child by Joanna Rajkowska and Beach by Rupert Norfolk.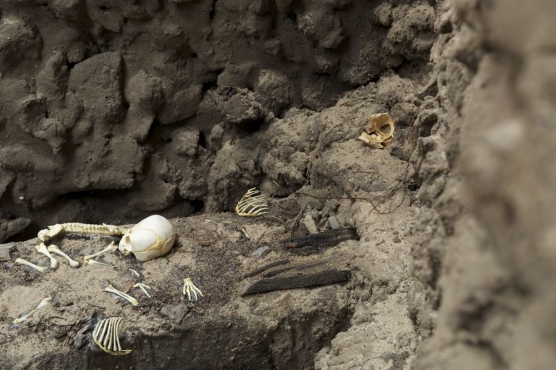 The Peterborough Child
Commissioned in 2012 as part of Citizen Power Peterborough, the work takes the form of a staged archaeological dig.

Rajkowska

intended the open pit, with its "replica skeleton of a thirty week old foetus" to act as a response to the location of Peterborough "as a site of ancient graves, some dating back to the Neolithic period". According to Wysing, controversy began to surround the project when its admittedly uncomfortable but nonetheless emotive central image began to be seen as "a grave and not a re-enactment of an archaeological dig".
Such a shift in perspective also coincided with Rajkowska's experience during the time she was living and working in Peterborough. Her own young child, Rosa, had at the time been diagnosed with Retinoblastoma, a rare eye cancer. As Wysing suggest, within these circumstances the work became something other: something different to the original commission, a manifestation of the intersection between "private experience" and a collective "un-comfortableness with potential immediate, rather than historic, death." Now installed at Wysing, the finished artwork has gained something of a talismanic status in which it exists simultaneously as a public commission, a private meditation, a symbol and a relic. Invented evidence pertaining to the psychic history of a very real trauma. It is, as Rajkowska puts it, "a chakra – a place of focused, accumulated energy".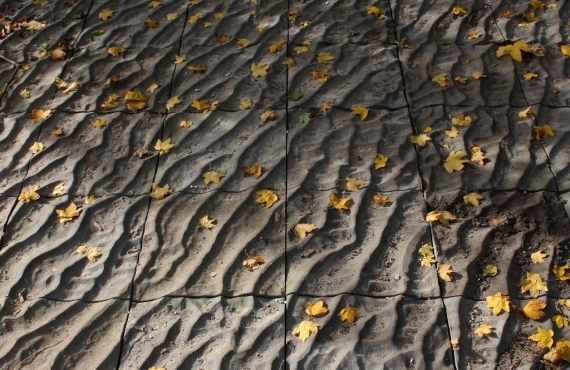 Beach
Hidden deep in Wysing's woodland,

Rupert Norfolk

's

Beach takes the walker / viewer from Rajkowska's psychic archaeology to the contours of an imaginary - and dissonant - landscape. As Wysing put it:
Beach apparently reveals an unexpected and previously hidden history; in a clearing in the woods to the back of Wysing's site the disconcerting image of a sandy beach appears. Dappled sunlight filtering through trees further adds to the sense of disorientation of seeing a natural image transposed to an unnatural location.
Norfolk created the work from 480 interlocking casts taken at the Solway Firth. As well as the visual dissonance of the wave pattern, Beach also creates a sense of tactile unease: walking through the woods you sudden step from a forest floor to solid but uneven ground. Something has, quite clearly, shifted. Add to this the odd juxtaposition of having a beach where it should not be and very soon another troubling thought occurs: when is the tide going to come in?
Beach was originally commissioned in 2011 by the Fundament Foundation in Tilburg, The Netherlands. As with The Peterborough Child, it is viewable in Wysing's extensive grounds.
Many thanks to Donna Lynas and Lotte Juul Petersen for inviting us to the

launch

.